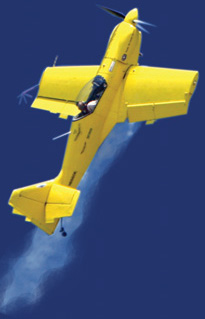 THE ZLIN 50 LX
The aircraft is powered by a modified Lycoming AEI0-540-B4D5, of 325+ horsepower,
driving a special composite constant-speed propeller designed and built by
Whirlwind Propeller of El Cajon, California. The Zlin is of all-metal construction,
and utilizes many different thickness of aluminum sheet, as well as titanium
landing gear, to achieve light weight along with incredible strength.

Pilot:

Rob Harrison

Number:

N6660K

Aircraft:

Zlin 50LX — manufactured in the Czech Republic and powered by an experimental, Lycoming-based engine developed by Performance Aircraft.

Year:

1996

Horsepower:

340+

Top speed:

250+ mph

Wingspan:

28 feet, one inch

Length:

21 feet, eight inches

Height:

6 feet, 8 inches

Gross weight:

1,600 pounds fully loaded

Empty weight:

1,250 pounds

Flight ceiling:

20,000 feet

Operating load limits:

Very high

Notable:

This model Zlin won several world championships between 1976-1985.